The "FREERIDE" kit has been designed to push the limits and widen your playing field. In just a few years, this kit has become the market reference for those looking for efficiency and reliability.
On the Freeride motor the attachment of the epicyclic gear is reinforced as well as the gears. There is no hall effect sensor to eliminate any risk of failure.

The winding and the power cables are dimensioned to pass a maximum of power without heating and the map of the controller is parameterized for use "VTT" and not for "city" use.

The mapping of the freeride kit has really been studied for mountain biking, which makes it possible to have a maximum torque available immediately without acceleration response time thus allowing you to facilitate the crossing of obstacles.

Another important detail: the quality of the rim and the shelving method that will allow you to pass the obstacles without fear.

The wheels we offer with the Freeride kit are French wheels (Manufacturer Mach1). The shelving is done in our workshop in France with 2,3mm stainless steel shelves and a manual shelving method. Each wheel is subject to rigorous quality control.

All our kits can be shredded on any rim of our rims catalog.
An additional fee will be charged depending on the choice of rim.

The phenomenal torque of this motor will take you to the top of the highest peaks. Reduced motor technology will allow you to pedal freely and save battery power.

FREERIDER MOTOR

The Freerider motor is equipped with a cassette body compatible with Shimano and Sram 9 and 10 speed cassettes. Shimano 11-speed cassettes are compatible on this motor. If your bike is equipped with a 7 or 8 speed cassette, you will need to add cassette spacers.

The motor is supplied with lock washers that will allow you to center your wheel in your frame.

You can screw your brake disc to standard 6 holes on the motor. For bicycles equipped with pad brakes, do not forget to order a rim with surfaced edges like the Mach1 260
With your kit you receive a complete driving wheel. All our wheels are carefully checked before shipment: spoke tension, centering, sail and false round.

For "engaged" uses we advise you to choose a rack on the KLIXX or MAD rim. This French made rim will allow you to use your kit in all conditions.

The wheels KLIXX and MAD are freeride rims, with a reinforced wall and a double eyelet. By choosing this option you benefit from a manual shelving in our workshop which will guarantee you a great reliability.
25A CONTROLLER

The OZO 25A Controller is pure technology. It integrates high quality electronic component issued of automotive world.

The dual sensored/sensorless sinusoidal cartography can adapt to oriented fields (FOC) will avoid breakdown frequently meet with competitor's mountain bike.

This controller is the brain of your kit. It will allow you to do whatever you want with your electric bike.

You can drive your bike via the pedal sensor if you want an electric assistance by pedaling or via an accelerator (or both).

You can use board computer (cycle analyst) to set the motorization settings by yourself.

Totally evolutionary: Over time, you can add on your bike multiple functionalities: cycle analyst V2 or V3, 3 positions switch, speed regulator, ON/OFF switch, regeneration, cutoff brake, pedal sensor, accelerator…
PEDAL SENSOR AND ACCELERATOR

To drive your motor, you'll require a pedal sensor or a handle accelerator. Or both in the same time. The pedal sensor (pedelec) allow an assistance while pedaling you pedal, the moror is engaged, you stop pedaling, the motor stop. If you are using the pedal sensor, don't forget to take in supplement a 3 positions switch and/or a cycle analyst. And you can profit of multiple assistance mod


Please note that the accelerator is really useful pour hill starts and obstacles crossing.
The pedal sensor also call pedelec is a rotation sensor. You are required to pedal to get this assistance.

To be certain to choose the right pedal sensor for you bike, please see a video about this subject or read the manual at the bottom of this page.

Integrated pedal sensor: For chain set housing of squared axis having a minimum 4mm gap between the crank and the frame.

Pedal sensor with magnetic disk: For other bikes which don't have a minimum gap to install an integrate sensor.
The accelerator can manually dose the power sent to the motor. It can be used alone or with the pedal sensor. We advise you for a mountain bike use. It exists in two versions:

Thumb throttle (installed left)

Half throttle (installed right)
BOX BATTERY OR PVC

You'll have to supply your Freeride wheel motor kit with a 36V or 48V battery. Every 36V or 48V OZO batteries are compatible with this motor.
The capacity choice is done in function of the wanted autonomy. For example, a 500Wh battery will offer you around 50km (31 mile) of autonomy without forcing the bike to 100km (62 mile) in function of your effort. A 1000Wh battery will offer you the double of autonomy.
The second criteria is to know where do you want to install your battery on your bike. For that
We are proposing you two versions of battery: Box battery and PVC battery.
Offer a protection against humidity, rain, impacts and dust and allow you to lock the battery.

Please verify the dimensions of the battery by going directly on the concerned product sheet.

They are lighter and less costing. But you'll have to installer it in a backpack or in a cover to assure it protection. Using them in backpack is for electric mountain bike or with electric assistance. Because the bike is lighter so more manageable.
OPTIONALS ACCESSORIES

Accelerator : The accelerator will allow you to manually dose from 0 to 100% the motor power.

It can be used alone or in parallel with a pedal sensor.

We offer two types of accelerator: a semi-rotating handle or thumb trigger. Question # 11 of our FAQ will allow you to choose between these two models.

Brake cut-out / regeneration option :

The brake cut-out is not necessary for the proper functioning of your motor but offers additional safety by grounding the system during braking and is strongly recommended if you use a cruise control.

it is in the form of a contact brake handle for bicycles equipped with cable brakes or a magnetic contact or a simple push button for hydraulic brakes.

If you use a direct drive motor, the brake cutoff will activate the regeneration to recharge the battery when braking or downhill.

Cycle analyst :

The controller is wired to receive a cycle analsy V2.4 or V3.

The cycle analyst is a truly board computer, more advanced than other LCD display proposed in 250W and 750W kits or pedal motor.

The cycle analyst displays all the electric data of your motorization and your battery. This will allow you to set your settings and loop your regulation system. To get more information about the cycle analyst please see our tutorial videos and read our utilization notice.
Torque arm : is a stainless steel shaped with a laser to avoid fixation screw loosening of the drive wheel and to don't ruin the bicycle frame.

The torque arm is essential for freeride kit.

To choose your model for your bike please read the manual on torque arm's role.

Freeride motor : is compatible with all Shimano and SRAM cassette in 7,8,9 speeds.

So, you can recover the cassette of your original bicycle or buy once with your kit. We will install it of the wheel.

Please note that if you have 7 or 8 speeds, you'll have to take cassette spacers to adapt it on the motor.

.

Cruise control : The controller has a connector to plug a speed regulator. Accelerate until the cruising speed you want, then let go the accelerator and the electronic regulates the motor to conserve a constant speed.

Really useful when you are following a group who don't have the same motors.
Pedal sensor :

If you chose the pedal sensor and you want to get multiple assistance modes, you'll have to plug the 3 positions switch on the dedicated connector on the controller. The 3 modes are: 30%, 60% and 100% full power. If you have a cycle analyst, you can control by yourself the speed level.

Puck : They are not required for all installation, but only on certain type of pedals that allows you to facilitate the installation of the magnetic puck on transmission side.
ON WHAT BIKE CAN I INSTALL MY FREERIDER KIT ?

The Freeride wheel motor kit is compatible with all bikes equipped with a back wheel axis of 9x135mm and 10x135mm.

To be certain of the installation of the Freeride motor on your bike, please verify that you have a traditional open frame in 135mm.

With a ruler, measure the interior width of the A frame. You must have at least 135mm.

Then measure the frame notches (B value). You must have a value between 9 and 10mm.
2D PLAN OF THE FREERIDE MOTOR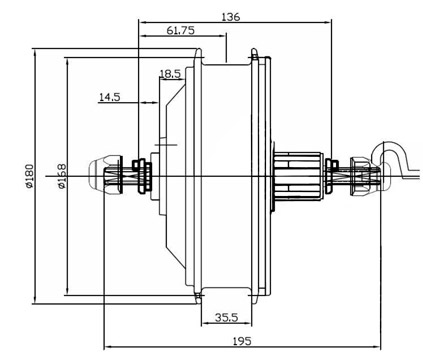 INSTALLATION EXAMPLES

MANUALS

Use and assembly of wheel motor kit
25A Controller manualCycle analyst installation manual
Accelerator installation manual
Torque arm installation manual
Pedal sensor installation manual
Free wheel and cassettes installation manual
Speed regulator installation manual
Battery installation manual
Freeride OZO

kit

installation :

Installation of

pedal sensor for ebikes :
Presentation of

cycle analyst V3 :

Presentation of

Torque Arm :