Botle Lithium Battery 12V 7Ah 101Wh
Dimension: 325 * 96mm without support / 330 * 110mm with support
Mass : 1.4 kg
The 12V 7Ah 101Wh OZO bottle battery is manufactured in our battery laboratory located in FRANCE, if you want a longer autonomy, a tailor-made model, do not hesitate to contact us on batteries@ozo-electric.com.
This battery, already acclaimed by major manufacturers, will integrate perfectly with your machine, lifting table, logistics trolley, handling, your stand-alone installation, independent weather station, remote projector, portable electric camping device.
The battery is delivered with a support allowing to install it instead of the bottle cage of your bike. You can then lock the battery on the holder with a key.
The head of the battery includes an Leds autonomy gauge.
The cylinder is aluminum and the ends are plastic. The weight of the battery is 1.4kg.
The charging time is 3h 30min with a 12V 2A charger.
This battery is equipped with a BMS (Battery management system) which regulates charging and discharging in order to preserve its lifespan.
The battery is assembled with the best cells of big brands like LG and Sanyo.
Supplied with support, locking key and cable for connection to the controller with Anderson connector for power and Jack for load.
The power cable has a length of 400mm. If you want a different length please contact us on batteries@ozo-electric.com.
Details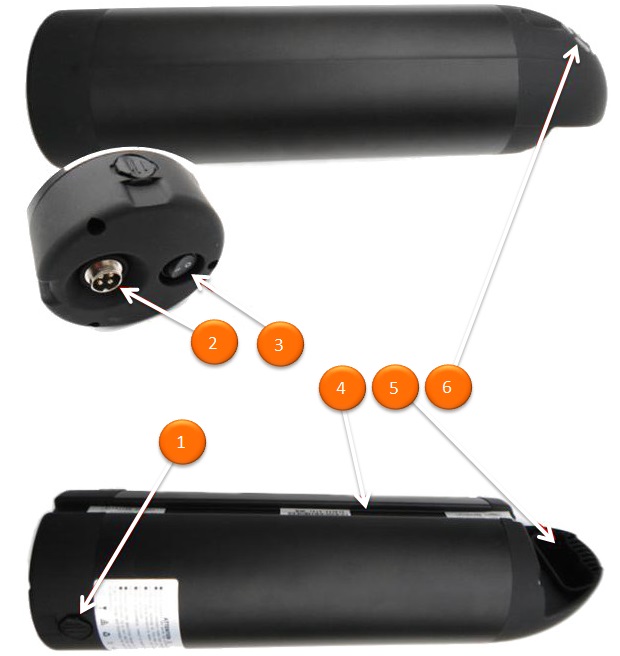 1- charge
2- Power
3- ON/OFF switch
4- support
5- Carry handle
6- LED gauge
Dimension
(pattern to print pdf file in A3 format to have the battery at 1: 1 scale, actual size)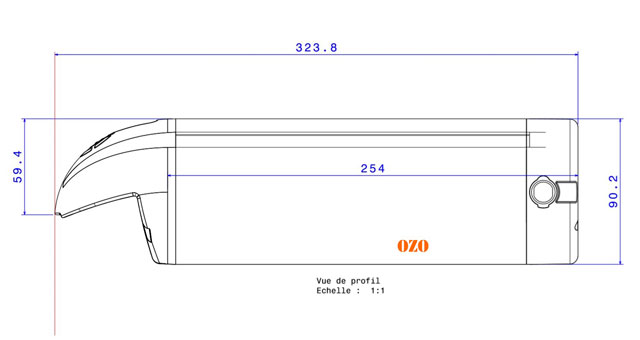 Dimension without support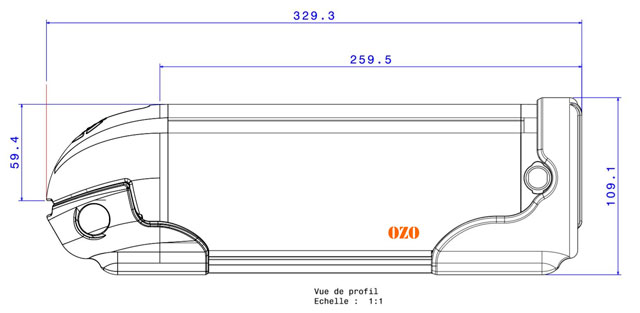 Leds gauge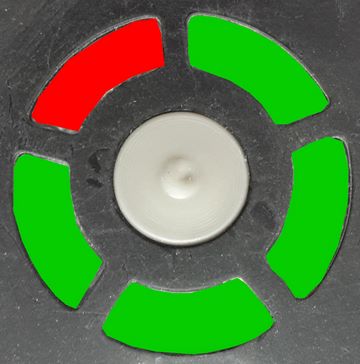 100%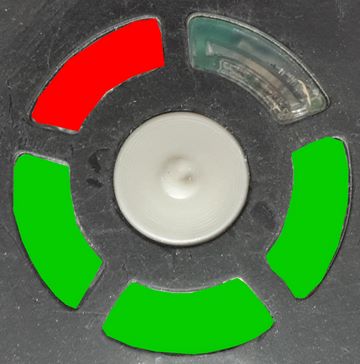 70%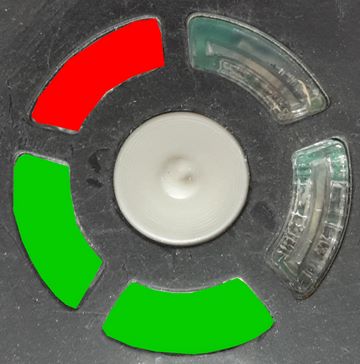 45%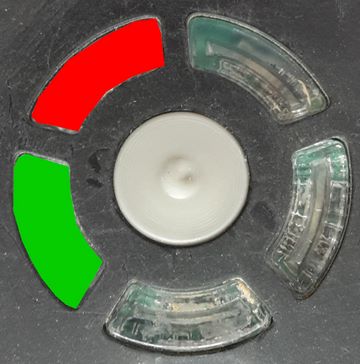 20%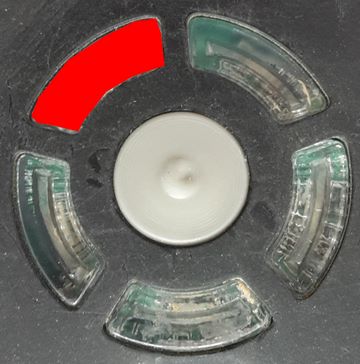 5%
On/Off switch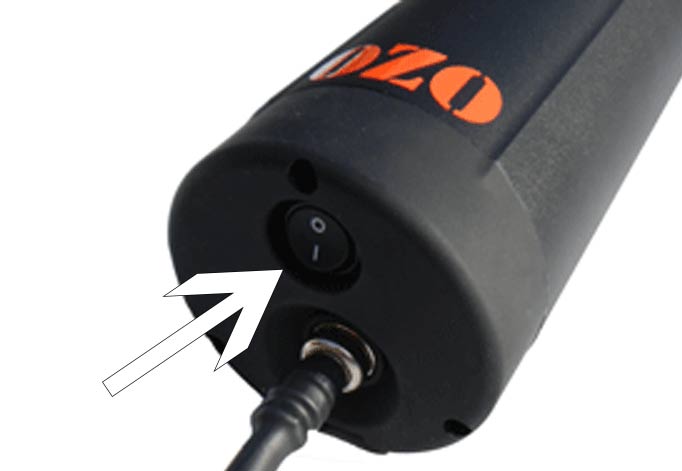 Power connector
On/off switch and power cable with Anderson connector.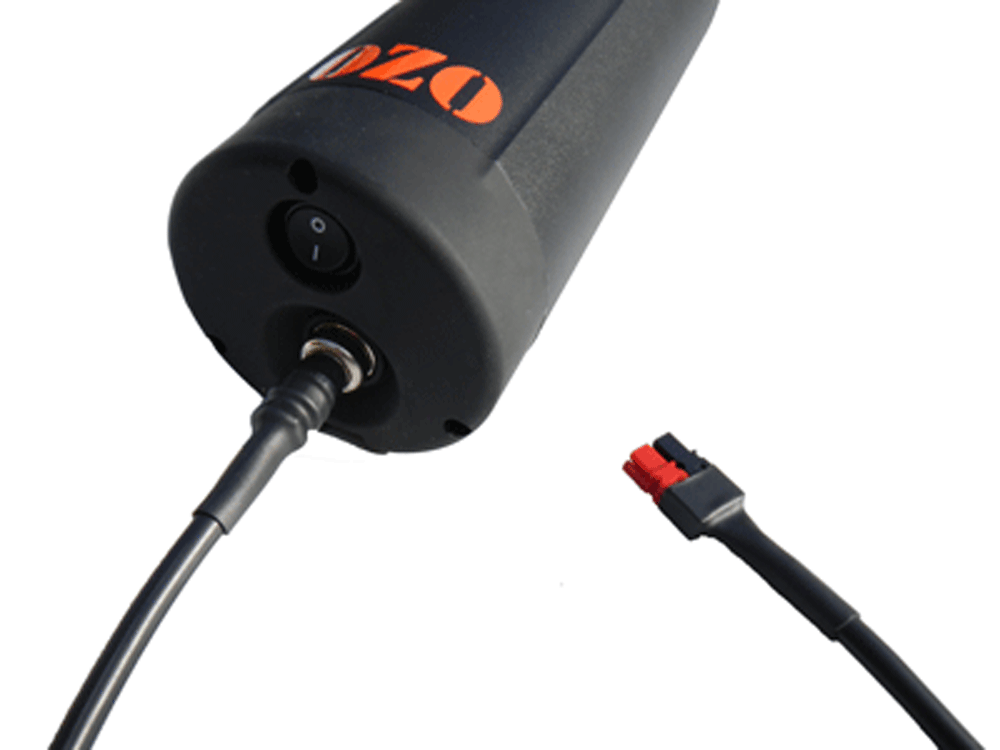 Charge connection
Jack DC 2.1 directly on battery tube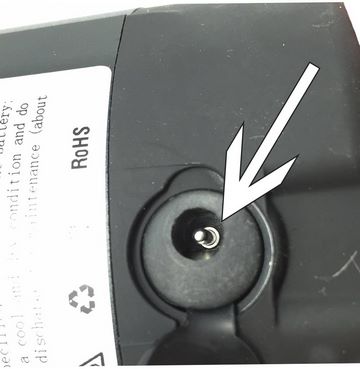 Support