No.1 in the world of bicycle motor manufacturing, the reputation of Bafang brand is well established. Reliable, quiet and terribly effective products. OZO is Bafang's official distributor since 2010.
The BBS01 central motor, offers a torque of 80N.m which puts it above all others 250W mid-drive motors on the market.
This torque will be able to reach 100N.m with "short transmission" in option and our optimized cartography.
In addition, it is also quieter than competing motors thanks to its field oriented controller.
The Bafang central kit motor can be installed on 90% of traditional bicycles without any modification to the existing frame.
Another advantage and not least, this motor has been developed to maintain a traditional bike transmission, you can ride like on a standard bike with 44 teeth or 46 teeth gear and not a small 22 teeth as some brands, we offer in option double gear assembly, allowing you to ride on any trail.

The Bafang BBS01 central motor kit is delivered standard equipped with a pedal sensor built into the motor.
The display on the handlebar allows you to select 9 different assistance modes according to the effort you want to provide and displays following datas: Instantaneous power, battery voltage, total distance, daily distance, time, speed advance, battery life.
We offer the 36V BBS01 central motor kit in two different versions: 250W 25Km / h or "Optimized" version with low time response and fast acceleration curve. Note that for these two versions, this is the same kit, only the motor mapping differs.
THE BAFANG BBS01 MOTOR

Bafang BBS01 central motor can be installed in place of the original bottom bracket. This integrates motor, controller and pedal sensor.

Installation is easy and does not require any modification on the frame.
The gear and its Bash are to be screwed directly on the motor. Steel series gears are intended for general using. If you ride mountain biking, we suggest to buy our adapters to install standard 4x104 32, 34 or 36 teeth gear.

For road application, prefer a double-gear install with a larger gear as 48 or 52T to increase top speed ... up to 45Km / h with this motor.
DISPLAYS

We offer a range of four displays to control your Bafang BBS mid-drive motor.
All our displays offer 9 standard assistance modes, but you can also choose to split the power only over 3 or 5 modes.
By the way, you can set by yourself the maximum speed that you want to reach via the pedal assist.
Display 965 LCD, the entry level: Black and white display, it includes all the main functions.

The original bracket is intended for installation on the handlebar, but we offer as an option a support on stem.

Display TFT 500 : the entry-level color display. It will be perfect for bikes with no left shifter handlebar.

Easy to use, the color resolution of this display is perfect.

Display TFT 750 : The best screen choice for mountain biking.

It will be less exposed to shocks than the 860 and the reading of the parameters is more intuitive. In addition, it offers more read parameters than the 500 and 965 displays.

Display TFT 860 color offers the same features as the 750 but with a vertical display and a USB port which will allow you to recharge your smartphone or GPS while riding. We recommend it for road bikes.

Comes standard with a support on the handlebars, you will be able to take the optional support on stem.
BOX OR PVC BATTERIES

| | |
| --- | --- |
| | |
| Battery casing provides protection against moisture, rain, shock and dust and allows you to lock the battery on the frame or luggage rack. | The "PVC" battery doesn't have a fairing and thus will be lighter and cheaper but you'll have to install it in a pannier to insure its protection. |
You'll have to power your Bafang BBS01 central motor with a 36V battery. All 36V batteries in our catalog can fit with this motor. You have to choose the right battery capacity according to the distance that you would like to reach.
For example, a 500Wh battery, you will offer about 70Km of autonomy on mixed course with an medium level of assistance and up to 100Km in Eco mode.
If you choose a 1000Wh battery, you can double your autonomy since it is directly proportional to the battery energy. The second way to consider when choosing the battery will be where you want to install it on your bike.
For this we offer two sizes of batteries: "PVC" batteries or Box batteries.
OPTION ACCESSORIES

The throttle offers the opportunity to drive the motor without pedaling. We recommend it especially for mountain biking in order to help with hill starts and obstacle passes.

Two different shapes: Thumb throttle or half twist throttle.

The thumb throttle can be installed on both side of the handlebars.

The half twist throttle has to be installed on the right side.

The brake cutoff is an additional safety that cuts off the power supply to the engine when braking.

This is particularly useful during delicate maneuvers. The brake cutoff comes in different forms:

The brake handles that are put in place of your original handles.

The cable sensor that installs on the brake cable.

The magnetic sensor to reserve for bicycles equipped with hydraulic brakes.

The shift sensor is used to shut off the power supply to the pedal motor while shifting, thus preventing premature deterioration of your transmission.

We recommend it for mountain biking where the speeds are often "on the fly" by two or three.
Standard gears Adapters 4x holes or 5x holes. Allow the install classic tranmission gears as MTB standard (4x104 BCD) or Campagnolo (5x135) or Shimano (5x130 or 5x110).

With these adapters you can also ride a double gear mount on your Bafang BBS motor.

Extensions : On some bikes (tandems, recumbent bikes, trikes ...) you will certainly need to extend the cables going to the displays and the accelerator.

We offer extensions for all Bafang BBS01 central motor cables.

The Y Cable will allow you to connect a derailleur sensor while keeping both brake cuts on the Bafang BBS01 and BBS02 central motors.

The bottom bracket adapters allow you to install the central motor on the BB30 or US boxes.
As on all mid drive system, the Bafang motor torque is transferring from the chain. So you will have to get high durability chain on your bike.

To avoid any problem on your transmission, we suggest to install a reinforced chain. KMC brand produce a large range of chain specially for Mid drive motors.

The only specific tool you will need for installing the Bafang central motor is the wrench.

Disassembly of the original crankset of your bike may require tools, such as a crank disassembly and a dismounted crankcase square axis, you can select when buying the crankset kit.

At OZO, we have developed maps by type of use: City - Road - ATV.

For specific projects, we can realize customized mappings.

The settings of the map can be used to set the response times, the acceleration curve, the torque and speed on the various assistance modes, the operation of the accelerator, etc.
CAN I INSTALL BAFANG CENTRAL MOTOR ON MY BIKE ?

Bafang central motor BBS01 central motor can be installed be installed on standard BSA frames. Check that the internal diameter of your bottom bracket is 33.5mm minimum (Measurement A) and length is 68mm to 73mm (Measure B).

There are two types of bottom bracket, those with internal bearings and those with external bearings. In both cases, measurements are always taken at the frame level as shown here.

Measurement A corresponds to the inside diameter of the case, it is inside the tube edge to edge. The standard is 33.5mm. If you have more, you will have to take the appropriate adapters.

Measurement B corresponds to the length of the frame box, it is made between the two ends of the frame tube. You must have between 68mm and 73mm. If you have more (83mm, 92mm, 100mm ...) you will have to choose the BBSHD central motor.
2D DRAWING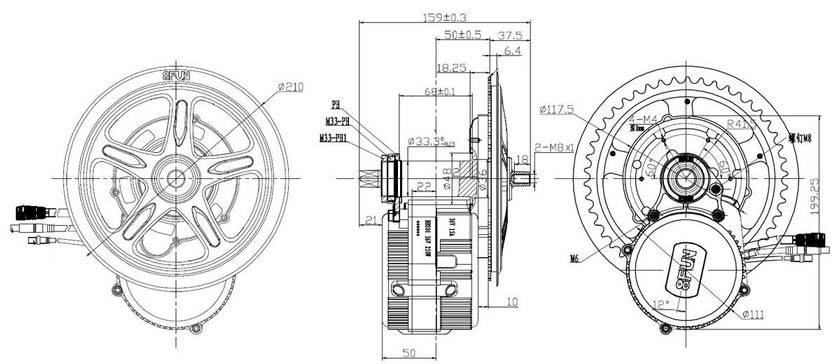 MOUTING EXAMPLES

DOCUMENTATIONS

Notices d'installation et d'utilisation des kits moteurs pédalier :
Notices d'utilisation des batteries
Notices d'installation des accélérateurs
Tutoriel vidéo sur

tous les accessoires du moteur pédalier Bafang :

Principe de fonctionnement du

moteur pédalier 8FUN BBS01 et BBS02 :
Les différents displays OZO pour

moteur pédalier Bafang BBS01 BBS02 et BBSHD :

Révision générale moteur pédalier Bafang

- Démontage Remontage Entretien :
Notice de Montage du

moteur pédalier 8FUN BBS01 et BBS02 - Part 1/2 :

Notice de Montage du

moteur pédalier 8FUN BBS01 et BBS02 - Part 2/2 :