Tractor torque is what best sums up the impression you get on the handlebars of a bicycle equipped with this mid-drive motor.
New in the 2016 range, Bafang still hits very hard with the BBSHD which is the most powerful pedal motor on the market . Available for Fat bikes bottom brackets in 100mm and 120mm length and for BSA 68mm to 73mm standard brackets.
The dashboard has also been redesigned with a handlebar box and a high-end digital display.
The torque at the wheel approaches 200N.m with the original 44-tooth Narrow Wide deck and modern cassettes in 11-42.
Note that the controller of this new mid-drive motor is fully programmable as on the BBS01 and BBS02 which will allow you to ask us for maps adapted to your use.
We recommend this mid-drive motor in priority for delivery professionals as on bicycles taxis, tricycles and scooters.
On a traditional bicycle, we advise you without hesitation to choose a BBS01 or a BBS02 which are lighter mid-drive motors and which allow the adaptation of specific platforms to the mountain bike or the road.
Although this mid-drive motor is basically designed for fat bikes, we recommend the wheel motor << Fatty >> which will allow you not to lose ground clearance and keep your original transmission but if your Fat is equipped with a through rear wheel axle, the choice of the BBSHD is obvious.
The use of strengthened chain is indispensable.

The kit is delivered with an integrate pedal sensor. You can choose to use as an option, an accelerator which it will be useful for hill starts or obstacles crossing with a mountain bike.
The handlebar control display allows you to select the assistance mode and shows you the exact electronic information like: instantaneous power, battery voltage, total distance, daily distance, time, autonomy…
THE BAFANG BBSHD MTORO

The Bafang BBSHD central motor is installed at the same place of the native pedal system.

It integrates a brushless motor, a 30A FOC Controller

The installation is really easy and don't need any modification of the frame.
The 46-steel tooth plate is the native plate from Bafang delivered with the BBSHD. But in function of your, OZO proposes you different plates smaller than the native one, to gain more couple.

For a mix usage, we advise you a displaced plate of 42 tooth.
DISPLAYS

We propose you 4 display to choose. All our display offers you 9 assistance mode, but you can you to allocate the power only on 3 or 5 modes if you want.
You'll have the opportunity to curb my yourself the maximum speed that you want to reach with the assistance.
The entry-level model :

The colored entry-level :

Perfect for bikes without shifter

Colored, perfect resolution

Best display for mountain bike

Colored

Less hit exposure than 850

Intuitive data read (more data then 500 and 965)

Same functionalities as the 750 but with a vertical display
BOX BATTERY OR PVC

You'll have to supply your BBSHD wheel motor kit with a 36V or 48V battery. Every 36V or 48V OZO batteries are compatible with this motor.
The capacity choice is done in function of the wanted autonomy. For example, a 500Wh battery will offer you around 50km (31 mile) of autonomy without forcing the bike to 100km (62 mile) in function of your effort. A 1000Wh battery will offer you the double of autonomy.
The second criteria is to know where do you want to install your battery on your bike. For that
We are proposing you two versions of battery: Box battery and PVC battery.
Offer a protection against humidity, rain, impacts and dust and allow you to lock the battery.

Please verify the dimensions of the battery by going directly on the concerned product sheet.

They are lighter and less costing. But you'll have to installer it in a backpack or in a cover to assure it protection. Using them in backpack is for electric mountain bike or with electric assistance. Because the bike is lighter so more manageable.
OPTIONALS ACCESSORIES

Accelerator

Allow you the possibility to drive your bike without pedaling. We advise you to use it on mountain bike to help with obstacles crossing and hill starts.

Cutout brake

It's not necessary for the proper functioning of your motorization. But it offers you an additional security by lowering the system when braking. It's highly recommended to use it if you have a speed regulator.

It presents itself under a brake contact handler for bikes equipped with brake cable and traditional handle. Or a contact on wire for those who want to conserve their original handle or a magnetic relay of hydraulic brakes.

Shift sensor

Can cut the motor supply while gear changing, avoiding premature wear of your transmission.

We advise you to use it with mountain bikes.
Narrow Wide plate

CNC Made in aluminium 7075 which confer a huge longevity and a weight gain of 400g against the native one in steel.

The couple gain is really awesome, and the chain line is conserved.

The best custom you can do on your motor.

Wire extension

On certain bikes like tandems, recumbent bike, trikes and other you'll certainly have to extend your wire from display to accelerator or other.
We propose you wire extension for all motor's wires.

The Y wire allow you to plug a shift sensor and to conserve the 2 cutoff brake on the central motor Bafang BBSHD.

Pedal housing adaptors

These adaptors allow you to install the central motor on BB30, US and BB92 boxes
Bafang motor

The Bafang motor assistance is done while pedaling. It's the chain of your bike that pass all the motor power. It's advised to install a strengthened chain to avoid break. (10 speed chain or 7/8 speed chain)

Tool

The only one tool that you'll need to install the Bafang central motor is the torque wrench.

The dismounting of the native motor of your bike may need some specials tools like a dismounting crank, a dismounting pedal housing with a squared axis, that you can add when buying your kit.

Cartography

At OZO, we developed cartographies by type of utilization.

The settings of the cartography allow to reduce the answer time, the acceleration curve, the couple, the speed on different assist modes…

For example, the mountain bike cartography is the most dynamic while the road one privileged energy economy with slow power spikes.
ON WHAT BIKE CAN I INSTALL MY BAFANG BBSHD CENTRAL MOTOR ?

We propose the Bafang BBSHD central motor in 3 axis length: 68mm,100mm and 120mm.

Dismount your native pedal housing and measure the internal diameter (A value) you must get at least 33,5mm.

If you get 46mm, you must take the BB30 adaptor.

If you get 41mm, take the BB92 adaptor.

If you get 51.4mm, take US adaptor.

B value correspond to the frame length. Took it from both sides of the frame tube. If you native housing is an external rolling (shimano hollowtech) don't take care of the rolling when measuring.

If you get a 68mm or 73mm housing, you must choose the BBSHD in 68/73mm axis length.

If the length is between 83mm and 100mm, take BBSHD in 100mm.

If you have get 120mm, please choose the 120mm one.
PLAN 2D OF THE BOTTOM BRACKET MOTOR BAFANG BBSHD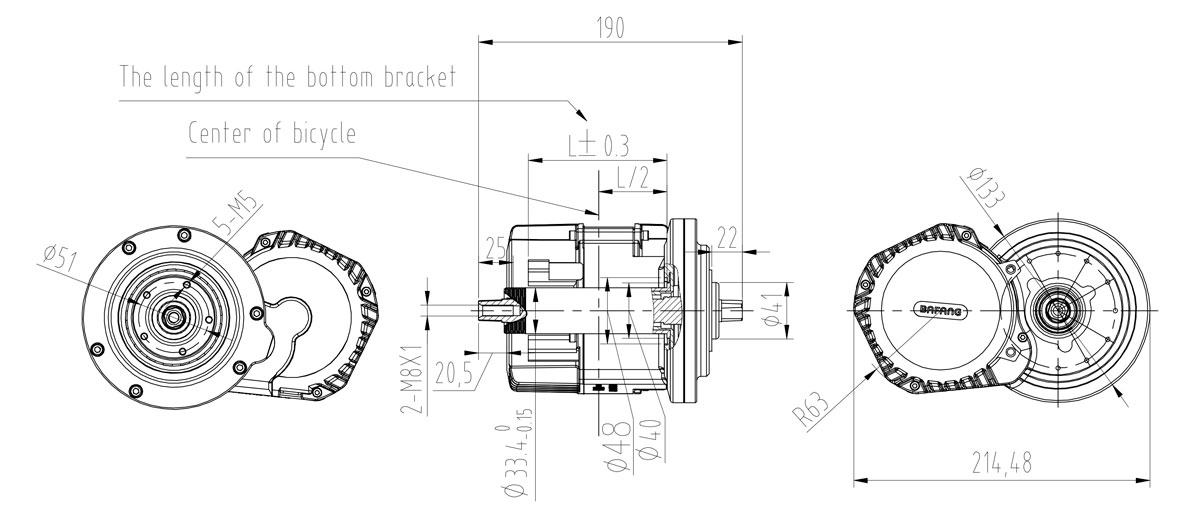 INSTALL

A

TION EXAMPLES

DOCUMENTATIONS

Pedal motor manual :
Battery manual
Accelerator manual
All central motor Bafang accessories
Use of

8FUN BBS01 & BBS02 central motor :
All OZO Displays for

Bafang BBS01 BBS02 & BBSHD central motor :

Maintenance and assistance
Notice of

central motor 8FUN BBS01 et BBS02 - Part 1/2 :

Notice of

central motor 8FUN BBS01 et BBS02 - Part 2/2 :