The Enduro kitis a simpler version of the Freeride kit. The installation is done in 22A with a lot of simple accessories. It's really easy to install. For beginners, the Enduro kit will match your needs. The power of the motor in 750W or 1000W is defined by the battery you'll chose. Between 36V or 48V.
With the 1000W/48V you'll gain 8km/h at your top speed and gain 15% more of couple. The Enduro wheel motor is reduced. It integrates an epicyclic train which on gears are strengthened. The motor works with sensorless, so you'll not have any problems due to a sensor failure. You can hit the slopes at full speed without any risk.
The winding and power wire are dimensioned to get the maximum power without warming up and the motor's cartography is programmed for a mountain bike use and no for an urban use. You'll be dynamic It's what gives it a dynamic and playful behavior… do you like trialising, outings, jumps or steep paths. It's this hit that you need!
The cartography was developed for electric mountain bikes exclusively, allowing a maximum couple available now without any response time during acceleration allowing you to cross obstacles.

THE ENDURO MOTOR

The Enduro motor is a reduced motor with an epicyclic train which on gears are strengthened and free internal wheel. Allowing you to have a lot of couple and a great ease of pedaling because the motor is totally suppressed when it's not powered. So, you will pedal like a traditional bike, without being slowed down by the motor.

The cassette body is compatible with Shimano and Sram cassette 9 and 10 speed. If your bike is equipped with a 7 or 8 speed. You'll have to add spacer for cassettes.

The motor is included with blocking spacers that will allow you to center your wheel in the frame. It can be installed on all traditional frames equipped with an axis of 135mm spacer.

You can screw your brake disc with 6 holes on the motor. For bikes equipped with skide brake please don't forget to command rim with surfaced borders like the Mach1 260.
With your kit, you'll receive a driving wheel comple­te. All our wheels are carefully radiated in our French workshops by passionate mechanics:

Spoke tension, centering, veil and fake round, everything is controlled before sending.

The 36 rays are in stainless steel of 2,3mm diameter made in France. For an engaged use, we are advice you to choose a rack on a mountain bike wheel such as the KLIXX or the MAD.

Theses rim are French made and will allow you to use your kite in every situation
22A CONTROLLER

| | |
| --- | --- |
| | The 22A controller is delivered with a JULET wire totally waterproof and very easy to install. Every wire has a wire coding system, so you cannot go wrong. |
The principal wiring harness is for the OZO 22A controller.

Julet connector 9-ways 80cm

2 RED connectors

1 GREEN connector

1 YELLOW connector

Compatible with all e-bikes disposing of the JULET connector 9-ways

Example : Nakamura, Kunteng, Gosport, Norauto, Peugeot…
3 DISPLAYS TO CHOOS

Handlebar housing LED 890 for OZO wheel motor electric kit 22A

Compatible with a lot of e-bikes : Cycoo V-5500, TopLife V-5500, Makadam E-Mountain/E-Forest/E-Vortex /Nakamura.

It will allow you to :

Select the electric assistance mode (null, low, medium, high)

To control your autonomy through the battery autonomy gauge/meter

Have the pedestrian mode that assures you to have a continue assistance of 6km/h (3,72 mile/h). It's ideal for pedestrian zone.

Handlebar housing LCD1

Compatible with all OZO wheel motor electric kit 22A

Compatible with a lot of bike with electric assistance : nakamura, carrefour, gosport, décathlon, easybike/ Cycoo V-5500, TopLife V-5500, Makadam E-Mountain/E-Forest/E-Vortex.

It will allow you to :

To control your autonomy through the LCD battery autonomy gauge/meter

Select the electric assistance mode (1 to 5)

To display your speed and distance travelled

Handlebar housing LCD1

Compatible with all OZO wheel motor electric kit 22A

Also compatible withbikes with electric assistance : Cycoo V-5500, TopLife V-5500, Makadam E-Mountain/E-Forest/E-Vortex / Nakamura.

It proposes the same functionalities of the LCD1 but with:

Display of instantaneous power

Display of the motor and exterior temperature

Display of the battery tension

The possibily to recharge your phone or to plug a GPS via USB.
THE PEDAL SENSOR

For every wheel motor kit including 22A controller, you'll necessarily have a pedal sensor. It allow to engage the motor and then, the electric assistance of your bike.
The pedal sensor is a rotation sensor. You are required to pedal to get the electric assistance. There are multiple type of sensor to correspond to 90% of bike on the market.

Integrated pedal sensor: For chain set housing of squared axis having a minimum 4mm gap between the crank and the frame.

Pedal sensor with magnetic disk: For other bikes which don't have a minimum gap to install an integrate sensor.
BOX BATTERY OR PVC

You'll have to supply your Enduro wheel motor kit with a 36V or 48V battery. Every 36V or 48V OZO batteries are compatible with this motor.
The capacity choice is done in function of the wanted autonomy. For example, a 500Wh battery will offer you around 50km (31 mile) of autonomy without forcing the bike to 100km (62 mile) in function of your effort. A 1000Wh battery will offer you the double of autonomy.
The second criteria is to know where do you want to install your battery on your bike. For that
We are proposing you two versions of battery: Box battery and PVC battery.
Offer a protection against humidity, rain, impacts and dust and allow you to lock the battery.

Please verify the dimensions of the battery by going directly on the concerned product sheet.

They are lighter and less costing. But you'll have to installer it in a backpack or in a cover to assure it protection. Using them in backpack is for electric mountain bike or with electric assistance. Because the bike is lighter so more manageable.
OPTIONALS ACCESSORIES

Accelerator : Allow you the possibility to drive your bike without pedaling. We advise you to use it on mountain bike to help with obstacles crossing and hill starts.

Brake cutoff : It's not necessary for the proper functioning of your motorization. But it offers you an additional security by lowering the system when braking. It's highly recommended to use it if you have a speed regulator.

It presents itself under a brake contact handler for bikes equipped with brake cable and traditional handle. Or a contact on wire for those who want to conserve their original handle or a magnetic relay of hydraulic brakes.

Sensor support : They are not required for all installation, but only on certain type of pedals that allows you to facilitate the installation of the magnetic puck on transmission side.
Torque arm : is a stainless steel shaped with a laser to avoid fixation screw loosening of the drive wheel and to don't ruin the bicycle frame.

The torque arm is essential for freeride kit.

To choose your model for your bike please read the manual on torque arm's role.

Freeride motor : is compatible with all Shimano and SRAM cassette in 7,8,9 speeds.

So, you can recover the cassette of your original bicycle or buy once with your kit. We will install it of the wheel.

Please note that if you have 7 or 8 speeds, you'll have to take cassette spacers to adapt it on the motor.

Carrying bag : Perfect to transport 36V or 48V battery on your bike. You can add in option a neiman supporting 30A current. The neiman is already wired on the Anderson PP30 connector.
ON WHAT BIKE CAN I INSTALL MY ENDURO KIT ?

The enduro kit is compatible with all bikes equipped with a back axis of 9x135mm or 10x135mm.


To be certain of the installation of the enduro motor on your bike, please verify that you have a traditional open frame in 135mm.


With a ruler, measure the interior width of the A frame. You must have at least 135mm.

Then measure the frame notches (B value). You must have a value between 9 and 10mm.
ENDURO MOTOR 2D DRAWING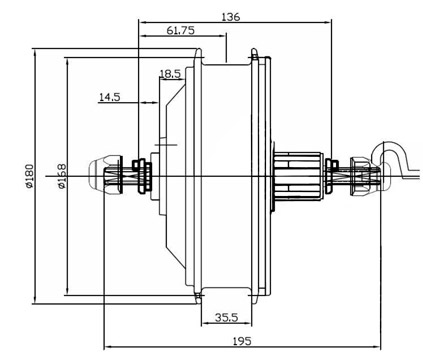 INSTALLATION EXAMPLES

DOCUMENTATIONS

Installation notices and use of wheel kit
Display installation notices
Torque arm installation notice
Pedal sensor installation notice
Free wheel and cassettes installation notice
Speed regulator installation notice
Battery installation notice
OZO Enduro kit manual :

Choice and installation of

pedal sensor for ebikes:
Presentation of compatibles displays :
Presentation of

Torque Arm :